Volunteer with Optage Meals
Optage Meals welcomes you! Volunteers play a vital role in expanding services.
Volunteers provide a golden opportunity to directly serve individuals within their own community as well as help our customers meet their nutritional needs. We are committed to finding the right volunteering role for you and/or your group. We are proud to offer many volunteer opportunities – all of which help us with our mission to provide meals to those in need and fulfill your purpose as a volunteer!
Optage Meals volunteer opportunities include:
How to become a volunteer:
Apply – Complete the application form on this page, or contact us.
Interview with a volunteer coordinator.
Complete 1–2 hours of online training.
Pass a criminal background check including fingerprinting.
Driving volunteers must have proof of vehicle insurance and pass a Department of Motor Vehicles check.
Interested in learning more? Please complete the form on this page.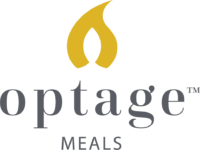 Become an Optage Meals volunteer
We are here to help.
In the comfort of your home, Optage brings you hope by supporting your choice and independence. We are here to listen to you and explain all the ways we can help.